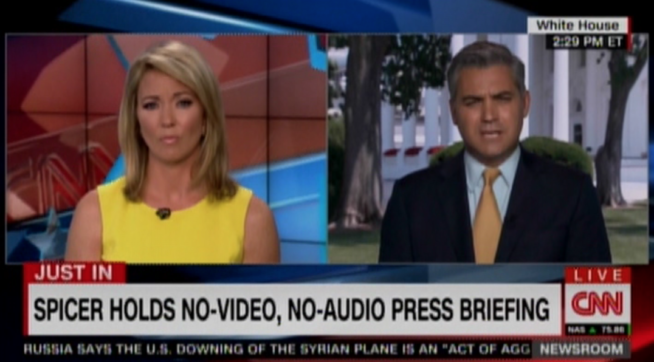 White House press secretary Sean Spicer is set to move into a new role in the Trump administration, according to multiple reports published Monday.
Sean Spicer is searching for his own replacement as White House press secretary, according to Politico who cites two people with knowledge of the expected shakeup.
"The White House press secretary is getting to a point, Brooke, where he's just kind of useless", Acosta added.
Spicer demanded Monday that his briefing would be off-camera and without audio, which meant journalists could report what he said but not record or broadcast it.
Would-be gunman launched into Trump tirade before shooting
The Democrats won 11-2, then turned right around and gave the trophy to the Republican team to put in Scalise's office. He spewed left-wing talking points on Facebook, consistently railing against Republicans and the wealthy.
Previous reports have said that President Trump is looking to shake up his communications team, especially in the aftermath in the firing of former Federal Bureau of Investigation director James Comey. "You know, if he can't come out and answer the questions and they're just not going to do this on-camera or audio, why are we even having these briefings or these gaggles in the first place?"
Comey told lawmakers that he hoped the tapes did exist since he was confident they would corroborate his memo. It just doesn't make any sense to me. "It feels like we're sort of slowly but but surely being dragged into what is a new normal in this country".
Spicer has been tasked with conducting press briefings and general communications strategy, leading to ongoing efforts to expand the White House communications team.
Spicer was asked about the prohibition on cameras and audio during the briefing, suggesting that the reason was to ensure that Trump was given the spotlight. Whether Spicer will stay at the White House in a different role is still unclear. "And there are days that I'll decide that the President's voice should be the one that speaks, and iterate his priorities".